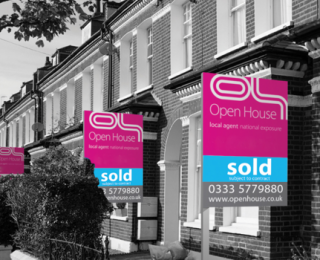 When's the best time to sell your property?
If you ask many estate agents up and down the country "when's the best time to sell my property?" they'd probably say right now. But that simply isn't true.
Because, as you smarter sellers will know, there are seasonal trends and local market variations at play that hugely influence the success of your sale.
So, before you make the mistake of rushing to market, let's take a look at what you need to consider before you sell your property.
Supply and demand
Generally speaking, the best time to sell your property is a fine balance of lots of active buyers combined with low supply levels.
Because of the fewer pickings available to buyers, most properties tend to attract more viewings with the potential for multiple bids to exceed asking price.
This is because competition between buyers adds to the desire to buy your property. And, before you know it, an intense bidding environment is driven by the fear of missing out. A vendor's dream.
To get a feel for supply and demand levels in your area, you might want to check PropertyMark, who release monthly reports on the supply and demand for housing in the UK.
When's the best time to sell your property?
Spring
Annual buying and selling trends suggest spring is the most popular time to sell your property in the UK.
The extended daylight, paired with gardens beginning to bloom, makes for perfect photo opportunities, as well as more hours to view properties in natural light.
What's more, Easter holidays mean house-hunters have more time to view properties – and more time to carefully consider all options.
Add to the equation you could also be in your new home before summer arrives, and it becomes even clearer why spring is such a popular time to sell your property.
Summer
With so many families jetting away during summer, activity tends to slow down in the property market. So, if you're selling what you consider a family home, now might not be the best time to sell.
That said, some buyers will begin their property search at the start of summer in the hope of settling into a new home before the school doors reopen in September.
To give you a better idea of activity over the summer period, it takes an average of 65 days to sell your property in July and August. But in the south-east region, we'd expect it to be shorter.
Autumn
With suitcases back in the loft from summer holidays buyers have more time to search for their next property.
As trends suggest, activity picks up from September to early November with a view to settling into a new home in time for Christmas.
The plus side to selling during the autumn period is the possibility of reasonable weather, as well as the kids being back in school!
But remember, if you're selling during this period, make sure you're ready to move quickly as there are generally fewer active buyers in the market.
Winter
During the colder months with limited natural light, buyers tend to be preoccupied with Christmas preparations.
There's also the consideration your garden and other external spaces might not look their best in photographs, which could impact the amount of viewing requests your property attracts online.
Our advice? If you're not ready to put your property on the market before the end of November, it's probably best to wait until the new year.
New Year
With many buyers looking for a fresh start after the Christmas lull, activity in the property market tends to pick up and continues to grow into the peak of spring.
Now's a good time to consider putting your property on the market.
Regional differences
Depending on where you're selling, you may experience variations from the typical selling cycle. As such, we always suggest checking when's the best time to sell your property with your estate agent.
To give you a guide on how much your property is worth today and how prices are performing in your area, check out Nationwide's house price calculator.
Wrapping things up
When it comes to selling your property, it really depends on the right time for you.
Yes, there is a well-known cycle for the best time to sell. But, more often than not, personal circumstances tend to take a driving seat in these situations.
Whenever you decide to sell your property, make sure you avoid these mistakes and take your time to choose the right estate agent for you.
If you have any questions about selling your property or wish to book a valuation, call Stuart and Neil on 01273 830987 or email bnsales@localagent.co.uk.
« Back